Convocation - 2018: Do Justice, Love Mercy, Walk Humbly with God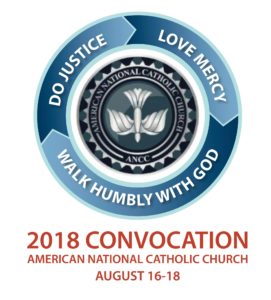 The American National Catholic Church's Biennial Convocation will held
at the
Claggett Center located
3035 Buckeystown Pike
Adamstown, MD 21710
Please join us at our 2018 ANCC Convocation, August 16-18. Registration is still open. Space is limited so don't delay! Cost is $300 per person and includes all conference sessions, all meals, snacks, and lodging. Arrival is 3 pm, Thursday, August 16 and departure is after lunch on Saturday, August 18. The nearest airport is Dulles.
Meet the people of your church and worship with your sisters and brothers from different parishes. Registration forms are available through your ANCC pastor or
download the form using this link
.